the forest underneath
2-ch. video installation and inkjet print

the forest underneath is a contribution to a visual investigation of the landscape of the meuse–rhine euroregion, curated by bas princen at the jan van eyck academie.

it combines into an observational video installation materials shot on location in and around the hambach forest, the last remnant of an ecosystem that has occupied the rhine plain since the end of the last ice age – and a site where corporate exploitation, environmental activism, and environmental degradation coexist.

the forest, of which only 10% remains, borders the largest open-pit coal mine in europe, and ghost towns doomed to be torn down. planned to be cleared to mine by the energy company rwe before 2020, the forest has been a political standpoint for environmentalists since 2012, when a diverse group of activists took permanent residence within it, in self-built 'barrios' and treehouses, behind barricades, to protect it from planned destruction.

delving into the invisibility of labor under automation, shore leaves offers an entry point to the everyday world of seafarers, when the pace of logistical handling slows down. shore leaves are vital for the health and wellbeing of seafarers and they represent the short moments when sailors can connect with their families and friends.

the video documentation was produced during fieldwork aboard bulk carrier and container cargo ships harbored for loading and unloading in the ports of venice and rotterdam, and at the seafarers organizations that in both cities provide practical assistance and support to seafarers of all nationalities.

focusing on the spaces and gestures of this waiting time, the project confronts a reality that is generally concealed. the machinic efficiency in the circulation of the goods on which our economies are highly dependent has a counterpart: while human presence and labor are still indispensable and of infrastructural importance, human bodies strive to adapt to remodeled times and spaces and descend further beneath a threshold of visibility.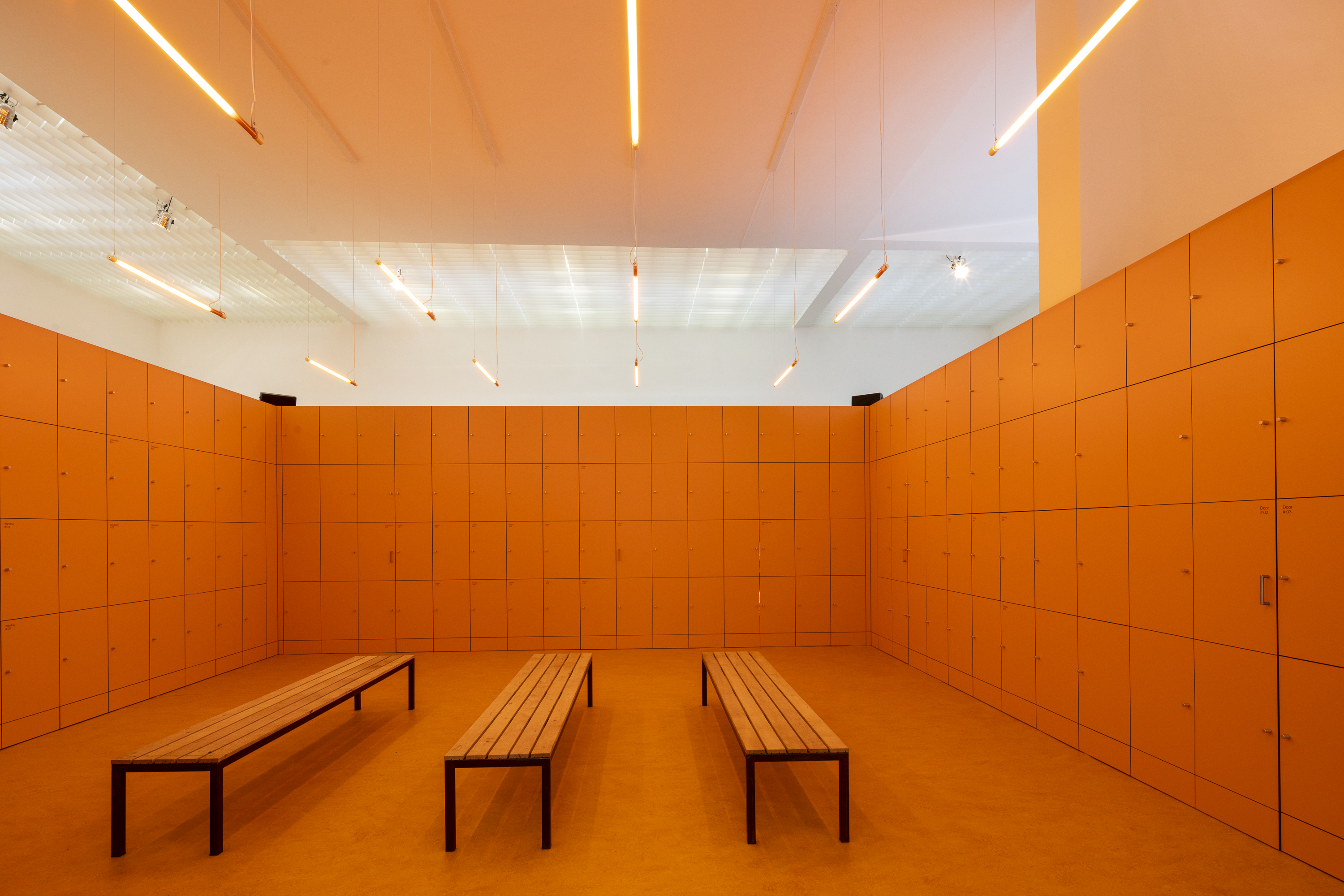 stills from the video;

view of the installation;

view of the rietveld pavilion (photo: daria scagliola).
fieldwork in european realism
research / open studio installation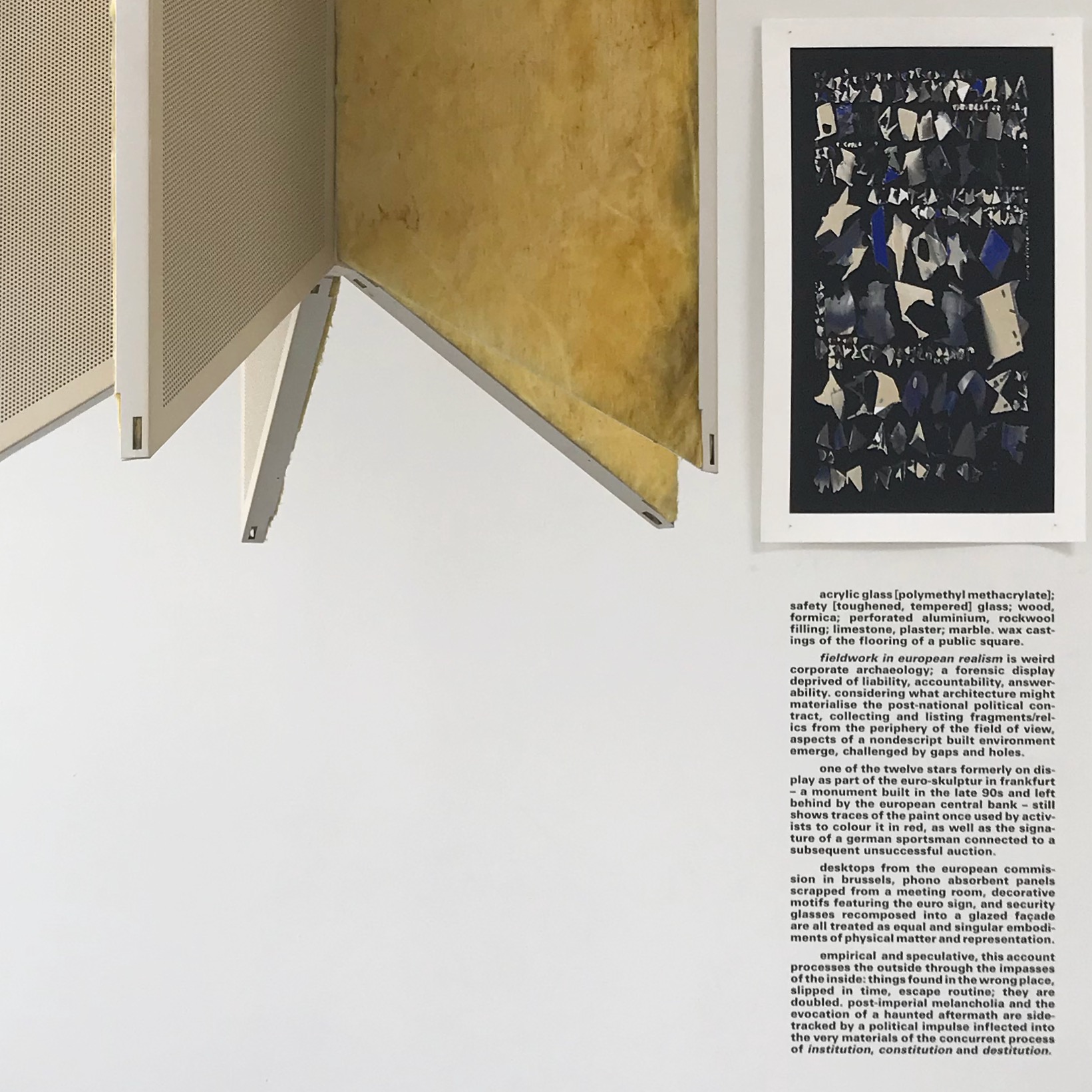 acrylic glass [polymethyl methacrylate]; safety [toughened, tempered] glass; wood, formica; perforated aluminium, rockwool filling; limestone, plaster; marble. wax castings of the flooring of a public square.

fieldwork in european realism is weird corporate archaeology; a forensic display deprived of liability, accountability, answerability: what architecture might materialise the post‐national political contract? collecting and listing fragments/relics from the periphery of the field of view, aspects of a nondescript built environment emerge, challenged by gaps and holes.

one of the twelve stars formerly on display as part of the euro‐skulptur in frankfurt – a monument built in the late 90s and left behind by the european central bank – still shows traces of the paint once used by activists to colour it in red, as well as the signature of a german sportsman connected to a subsequent unsuccessful auction. desktops from the european commission in brussels, phono absorbent panels scrapped from a meeting room, decorative motifs featuring the euro sign, and security glasses recomposed into a glazed façade are all treated as equal and singular embodiments of physical matter and representation.

empirical and speculative, this account processes things found in the wrong place, slipped in time: they escape routine; they are doubled. post‐imperial melancholia and the evocation of a haunted aftermath are sidetracked by a political impulse inflected into the very materials, in the concurrent process of institution, constitution and destitution.
recomposed glazed facade with disposed security glass;
plexiglass sheets from the euro-skulptur in frankfurt;
silicone mould of the paving of 1992 plein in maastricht.

reset modernity!
exhibition design
curated by bruno latour, martin guinard-terrin, christophe leclercq and donato ricci
modernity was a way to differentiate past and future, north and south, progress and regress, radical and conservative. however, at a time of deep ecological mutation, such a compass is running in wild circles without offering much bearing anymore. this is why it is time for a reset. let's pause for a while, follow a procedure and search for different sensors that could allow us to recalibrate our detectors, our instruments, to feel anew where we are and where we might wish to go.
the layout of the exhibition itself offers a set of disorienting/reorienting procedures. no guarantee, of course: this is an experiment, a thought experiment, a gedankenausstellung.
exhibition and workshop design
directed by yongwoo lee and hans ulrich obrist. curated by bruno latour, martin guinard-terrin, christophe leclercq and donato ricci
bruno latour and his team organized a set of workshops called "reset modernity! shanghai perspective" in may 2017, which resulted in an exhibition. we concentrated on a set of issues that modernity encounters at a time of deep ecological mutation, emphasizing a comparative perspective between europe and china. the four-day program took place at the shanghai himalayas museum, and used documentations assembled specifically for the discussions, which speak to conceptions of science, our understanding of territory and sovereignty, and handling the role of technology. it a complex process of translating and negotiating differences that the team wishes to launch. the chinese participants are encouraged to bring documents, examples, sites, situations, and concepts to light, thus sharing a different view of what constitutes modernity. the purpose of these workshops is to embrace the process of reassessment to compare how european and chinese thinkers, artists, intellectuals, activists, and officials can handle new situations. the goal is not to reopen the tired cliché of an east/west comparison, but to use the formidable trial of ecological mutation to compare how two cultures react and furthermore, how they reassess their own trajectories of modernization. cooperating with two highly complex civilizations that were initially shocked by various forms of modernizations and then, more recently, endured an enormous counter shock as a result of the new climatic regime, offers an ideal situation for productive encounters.

team: bruno latour, martin guinard-terrin, jamie allen, òbelo (claude marzotto & maia sambonet), donato ricci, christophe leclercq, paolo patelli, benoît verjat.