Fieldwork in European Realism
Research / Spatial Installation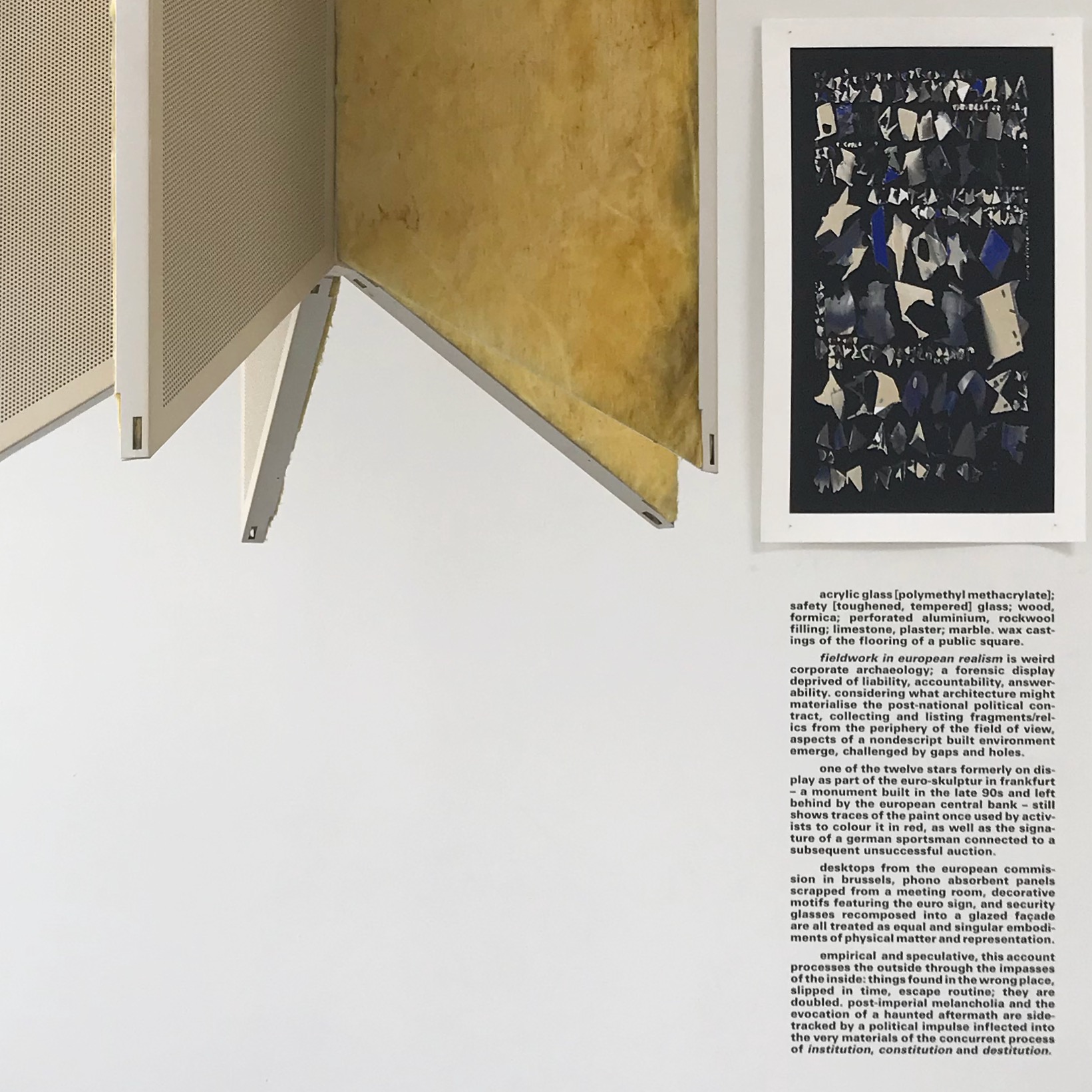 acrylic glass [polymethyl methacrylate]; safety [toughened, tempered] glass; wood, formica; perforated aluminium, rockwool filling; limestone, plaster; marble. wax castings of the flooring of a public square.
fieldwork in european realism is weird corporate archaeology; a forensic display deprived of liability, accountability, answerability: what architecture might materialise the post‐national political contract? collecting and listing fragments/relics from the periphery of the field of view, aspects of a nondescript built environment emerge, challenged by gaps and holes.
one of the twelve stars formerly on display as part of the euro‐skulptur in frankfurt – a monument built in the late 90s and left behind by the european central bank – still shows traces of the paint once used by activists to colour it in red, as well as the signature of a german sportsman connected to a subsequent unsuccessful auction. desktops from the european commission in brussels, phono absorbent panels scrapped from a meeting room, decorative motifs featuring the euro sign, and security glasses recomposed into a glazed façade are all treated as equal and singular embodiments of physical matter and representation.
empirical and speculative, this account processes things found in the wrong place, slipped in time: they escape routine; they are doubled. post‐imperial melancholia and the evocation of a haunted aftermath are sidetracked by a political impulse inflected into the very materials, in the concurrent process of
institution
,
constitution
and
destitution
.
recomposed glazed facade with disposed security glass;
plexiglass sheets from the euro-skulptur in frankfurt;
silicone mould of the paving of 1992 plein in maastricht.